marTONstudio
VocalrecordingCD-production  –  Soloartists   –  Children´s CDs  –  vocalrecordings  –  Bands  –  audiobooks

Professionell recordingstudio
We are happy to welcome you in our marTONstudio. In the following we have described the most common uses. In any case, you will also receive a specific offer for a specific request.
At the bottom of this page you will get an insight into our recording studio and its special features. We hope to meet in person soon.
own gift-CD
Jule is a young woman who actually only sings in the shower. That is certainly how she imagined herself. But now she wanted to sing some songs at her sister's wedding.
So she came to the marTONstudio. We got really good accompanying music for her wish-songs and after she put her nervousness through our soothing and uplifting manner, she was just incredible at the microphone and we were able to create a perfect gift CD.
Jule was happy she made it. Her sister's wedding had become uniquely beautiful and unforgettable with these songs by Jule.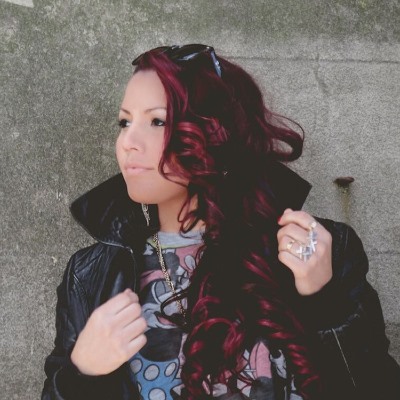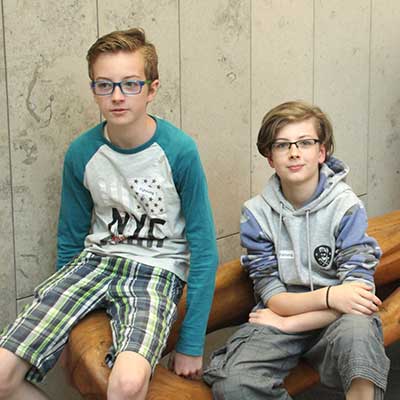 Children´s CD
Maxi and Friedi are musically gifted and have been looking for a cool and special Christmas present for the whole big family.
The way to the marTONstudio was just the right one. Friedi recorded something on the electric piano. Maxi then accompanied a title on the studio edrum as a budding drummer.
Afterwards, the two sung and rapped the song "Wood" together and recited a poem. The boys had fun and the result was at least as cool as their experience.
This CD as a Christmas present from Maxi and Friedi was for parents, grandparents and all the cousins one of the best gifts.
Band-Albums & Demos
Martin and Ines with their band wanted to record a new album and got the marTONstudio recommended.
We got along really well. They got a titlefixprize from us, which took a lot of time pressure out of the recordings.
These were excellent hours and days of cooperation. Although the band has often played live, they were amazed how much they are allowed to give and must give in a studio until we were all really very satisfied with the result.
Read more about this challenging and supportive collaboration in the references of our studio guests.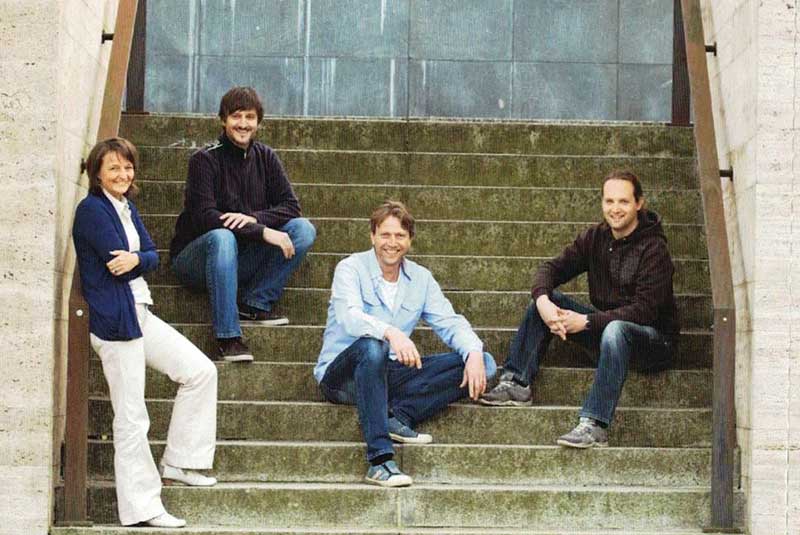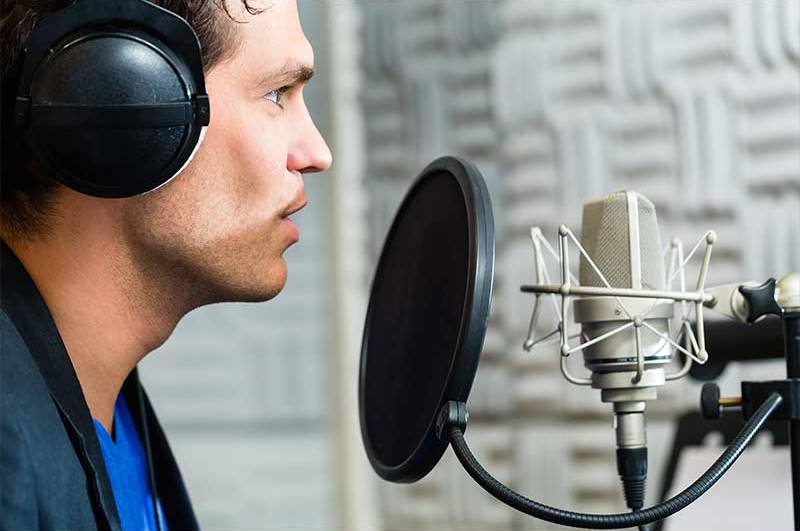 We are also happy to record life stories or belief reports. So if you've always wanted to write a book but don't have enough time or money, with our support you can tell everything you want to tell the world in an audiobook. Ask us exactly how this works.
t.
Lifestories
As an ICCC member, I got to know Gunnar Olson, a Swedish entrepreneur, as the founder of this worldwide organization.
I red his book "Business Unlimited" and was totally flattened. I had no idea how God could work in business today. Gunnar Olson has experienced incredible things and yet they are facts.
I knew I had to produce this audiobook so that as many people as possible could hear about it. In the shop it can now be found as an audiobook among others.
Martin Korpowski 
Our recordingstudio-packages:
Here you can choose between different studio packages. Of course, we also make you an individual offer. Contact us.
References - what our studio customers say:
"One week we locked ourselves in the marTONstudio. It was a very productive time. In the end, we made a great album, which we really like.
Hour after hour we worked, but Martin didn't get tired, even if it was a little later. It's fun to work with him in the studio. He manages to build and maintain a creative and concentrated atmosphere.
We particularly liked the way Martin has repeatedly shown us new perspectives on our music, without wanting to "bend" ourselves stylistically.
Everything we have experienced this week has been carried by God, and there was a fat blessing on that time.
The conditions in the studio are ideal for productions of this size. The recording room offers space for a complete band with all the equipment.
The existing technology is up-to-date and is operated by a skilled specialist. For us, almost no wish remained unfulfilled.
We thank you, Martin, for the good and blessed time. "
"In the marTONStudio we found the best conditions – this was about both the equipment and the care.
With Martin, we had a technician who worked with us with great effort to implement our ideas – if it had to be deep into the night.
We are very satisfied with the result, especially since we paid a very fair price. We can recommend the marTONStudio in good conscience. Big thank you to Martin!
"Thank you Martin, for this fantastic weekend! The marTONstudio offers the best conditions for our band to carry out an intensive rehearsal weekend. We just felt comfortable. We were able to rehearse in the studio until the doctor arrived. 
The technical requirements, including the instruments, offer professional level.
Martin, you have given us a lot for our music through your practiced ear and your experience. And if there was some thick air in the studio, we just went out. At the dike of the river Mulde just behind the castle park we took long walks to get our heads free again.
We'll be back next year!"
"Thank you, Martin, for the productive 14 days with the band in your studio. We enjoyed all the time the very good and personal togetherness. Your competence and constructive communication made it easy for us to focus as singers and musicians on what should be heard on the recordings.
Thank you also for your attentive listening and all the feedback you have given us. Always we have seen this as helpful, useful and enriching. Your peace and balance ae a blessing.
All interfaces in the process worked smoothly from the beginning and it was so easy to arrange and make all necessary preparations. Thank you especially also for all conversions and fixtures that you made before our studio time. As we wished we could record together as a whole band all tracks.
The Herrenhaus Schmölen (manor house beside the studio) was an excellent quarter for us. The silence on site, the park at the house, the proximity to the river are an ideal place to help the soul, which is so essential in days with so much concentration.
We will be happy to come back. God's blessing for you for all the recordings!"
In 2015, martonius was awarded the "VDM Award 2015" by the Association of German Music Professionals. This special award is the "golden CD" for music professionals.
efficient und effectiv
We help you get things right. But before that, we decide together that you are doing the right things – a small and important difference.
We are special and peculiar in many ways:
– with our claim to us and our studio guests to be passionate
– with our patience and psychological skill
– with our heart and soul for your project
– with our technology and acoustically coordinated rooms
– with our studio environment
– with our faith in people and their talents
special features in marTONstudio
The marTONstudio is a recording studio like almost any other. In the following we want to deal with this "almost " because that makes the difference:
Of course, the most important difference is made by our studio guests and how we work together. Yes, it's also work in the studio – some people have already started to sweat. But in the end everyone is happy when the tracks are very good and convincing in the box.
Our professional recording studio comprises a total of 80 m² of a recording room flooded with natural light with a completely expanded acoustic ceiling.
Simultaneous recording is important, because that's how the interaction is practiced. In addition, the recordings usually go faster and they also get better, because everyone has to listen well to the other.
The Living Room
The recording room in the marTONstudio is like a living room. This applies to the size of the room, to the daylight and to the home feeling that a musician can get there. Acoustically, the room is naturally dry and excellent to use as a recording room with correspondingly good measurement results.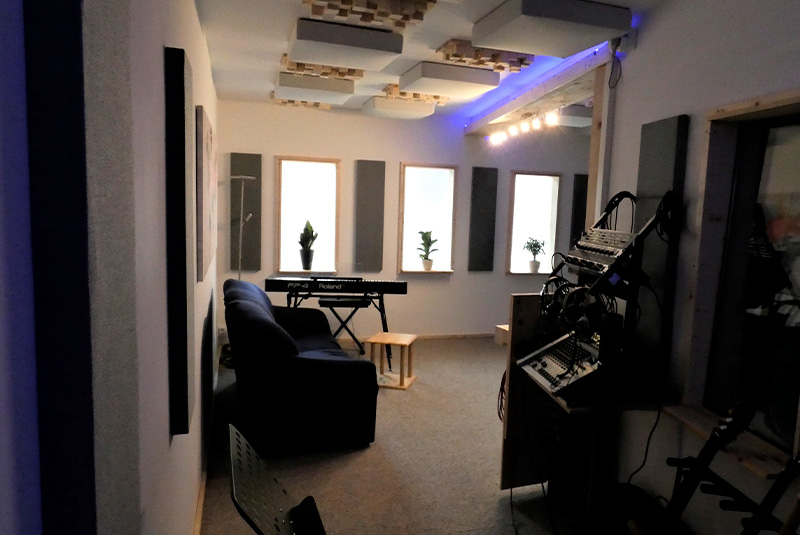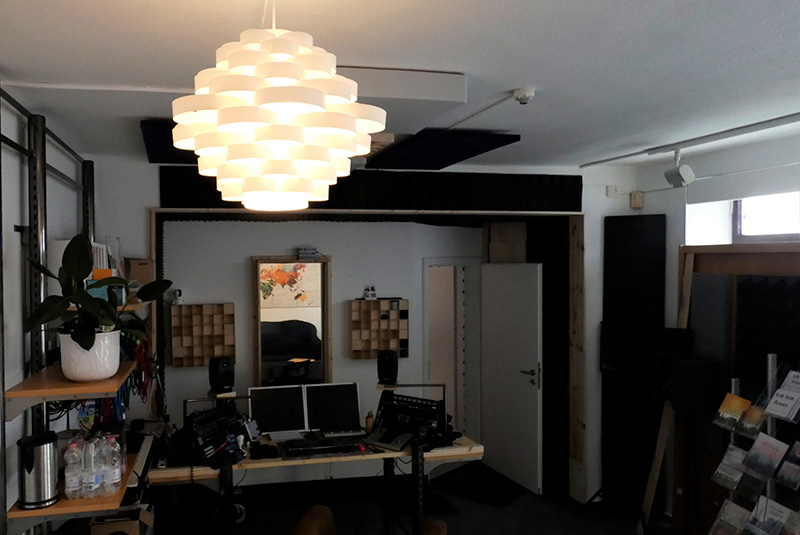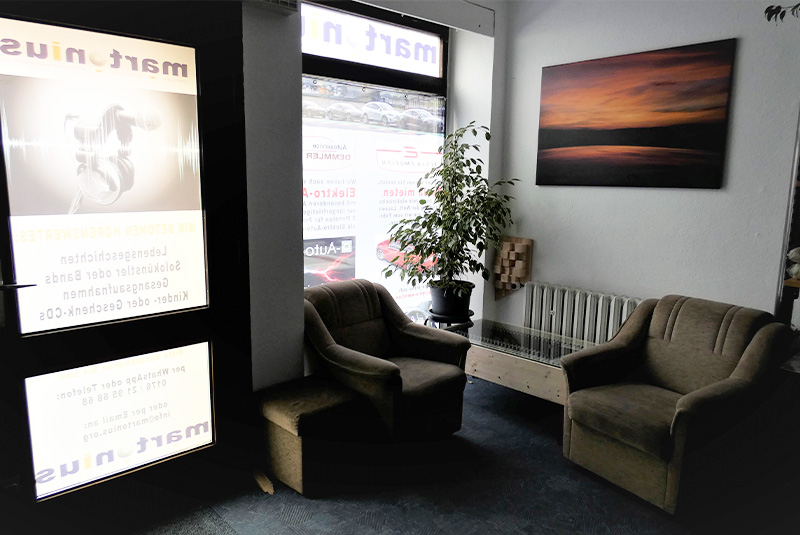 The Control Room
The control room is of course right next to the recording room,  and 2-3-4-5 people can sit there and observe the events and sometimes comment on it….
Types
Yes, sometimes you kind of lounging there, mostly during the patience tests. We are very patient so that the best possible result can be achieved in the recordings, with which everyone is satisfied. And, by the way, we are not satisfied too quickly and nothing can replace our years of experience
The Instruments
In our living room, the recording room, there are 2 good digital Roland instruments, an Epiano Roland FP4 and the Edrum Roland TD9 KX. It is important for us to play the bands together as much as possible. In other studios, all the instruments are recorded one after the other – this takes longer and the band doesn't necessarily have to meet. This is not good.
Making music together is a key to success and this can also be perfected in the studio.  Clearly, individual instruments are then added or repaired again. You can definitely hear the difference, the band has a good experience more and is better prepared for their concerts.
The Invisible Mixing Console
If you are looking for a giant mixing console with us, you have to look into the computer.  We work with the latest version of Cubase. This contains the mixing console and so we have 'only' a controller to be able to operate it better and faster.
Continue to work
Of course, this is the big advantage of digital recording technology – you can get everything and the mixer settings out again and edit it again.
Expectations
We have the following expectations for our studio guests: Of course you should know and know very well the titles you want to play or sing. Nevertheless, you should also be willing to try something different. Many songs develop in the studio. You get new ideas and that can be very nice…